Library of Things
Checkout these items!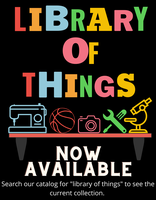 Check out our Library of Things!
You can find a full list at https://threeriverslibrary.biblionix.com/catalog/ by searching "library of things"
The Library of Things includes: arts & crafts, hobbies, electronics and audio, events and recreation items, board games, outdoor games, home and garden, musical instruments, science & technology, healing library kits (to help talk to children about the loss of a pet, the loss of a loved one, or divorce), children's play bags, and more!