Children and Families Home
Children's programs, services, and materials for preschool, elementary, and middle school students and parents.
Welcome!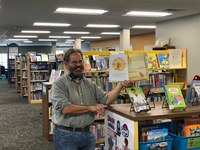 We have our own floor! Come up to the second floor for picture books, board books, books for beginning readers, graphic novels, and books for kids in grades 1 through 8. Tweens and young adults: see the Tardis? The young adult collection and teen program areas begin there.
Intro....