FRC Recommendations 2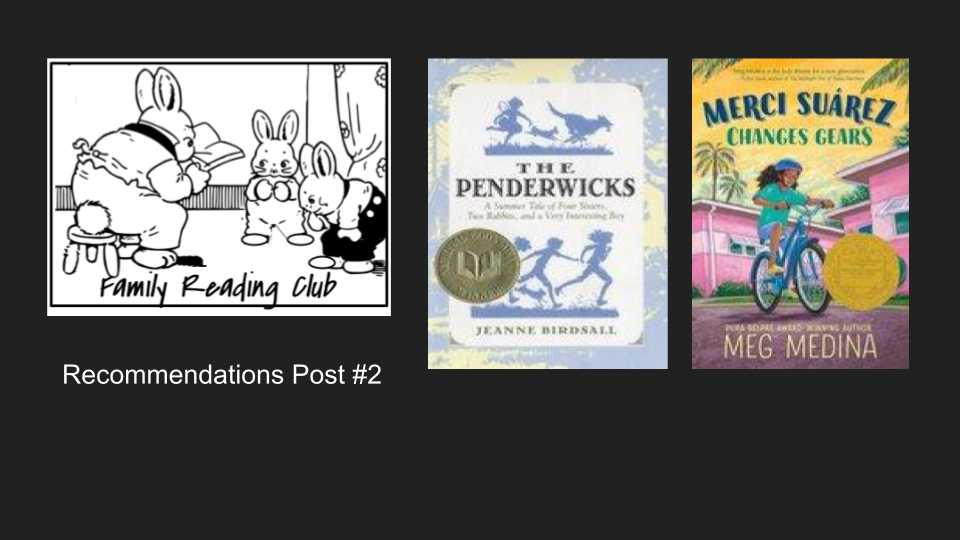 There are classic story formulas that work for a wide age range … when done well. I feel obligated to include a recommendation for The Penderwicks: a Summer Tale of Four Sisters, Two Rabbits, and a Very Interesting Boy by Jeanne Birdsall because it is so much more fun to read than an award-winning, Little Women -inspired story deserves to be. And it's great fun to read aloud. The Penderwicks–practical Rosalind, feisty Skye, artistic Jane, Batty with her butterfly wings, and their widowed father rent a cottage for three weeks in August. The cottage turns out to be on a sprawling estate in the Berkshire Mountains with formal gardens and a snooty owner named Mrs. Tifton. While hiding in a garden urn, Skye meets a boy her own age,  Mrs. Tifton's son Jeffrey and the adventures begin.
In a typical "fish out of water" story, Merci Suarez Changes Gears by Meg Medina, Merci expects sixth grade to be different, but not like this. She and her older brother Rolo are scholarship students at the exclusive Seaward Pines Academy. Friendships are fraught with jealousy when Merci is assigned a boy as her "Sunshine Buddy." It's hard to know where you stand when you have to do community service as part of your tuition. Merci also struggles to understand what's happening to her family when no one will explain why her beloved grandfather Lolo suddenly crashes his bike while they are discussing school. The author brings a warm sense of humor to the challenges of growing up, trying to fit in at school, and coping with the changes that alzheimer's disease brings to a family.