Discover Zone
Welcome to the Discovery Zone!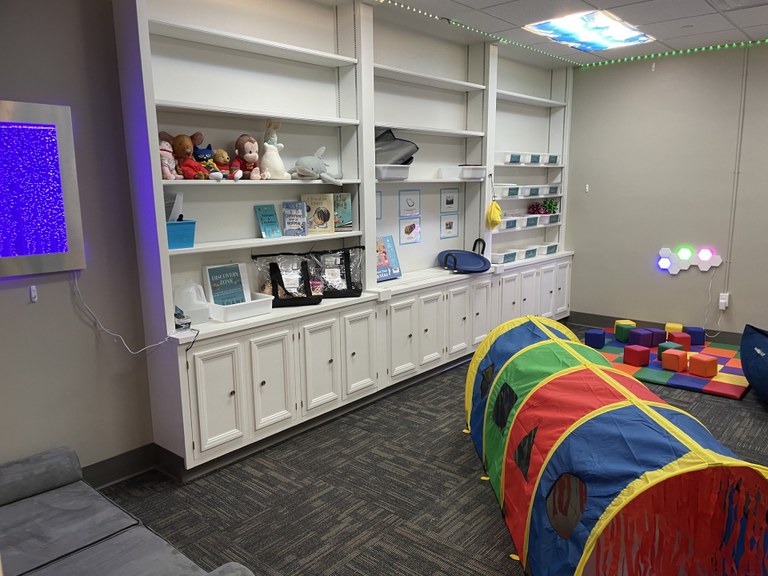 A sensory play area for early learners and neurodivergent patrons. The room is open from 10 -12 noon for preschool families. In the afternoon, the room can be reserved for an hour at a time by visiting the circulation desk or calling 269-273-8666. There is a maximum occupancy of 8.
Click here to view the usage agreement.
The Discovery Zone was made possible by a generous donation from KADANT.
Go to | Always On |Large Floor | Activity Bins | Circulating |
Bubble Wall Aquarium

Caterpillar

Magic Hands Heat Sensitive Board

Tap Tap LED Lights

Go to | Always On |Large Floor | Activity Bins | Circulating |
>Large floor activities (rotating or by request):
Color Mat and Blocks


Floor Piano



Light Table


Liquid Floor Tiles


Peapod


Rosetta Star Projector



Sensory Tunnel



Stepping Stones Tactile Balance Board


Vibroacoustic Lounger


Wiggle Wobble Rock & Twist

Go to | Always On |Large Floor | Activity Bins | Circulating |
Dimpl Pops


Fidget Slugs


Hoberman Spheres


Learn to Dress


Lidzy


Odoxia Sensory Set


Pin Art Board


Rollagain Sorter


Shape Learning Boards


Tangle Fidget Toy


TickiT Sound Prisms


Twist Stick Fidgets

Go to | Always On |Large Floor | Activity Bins | Circulating |
>Circulating Kits
  each kit includes 1 weighted plush animal, 1 fidget slug, 1 ne doh ball, 1 hourglass water tube, 1 sensory ring, 1 long glitter tube. Kits may be reserved for checkout from our catalog: threeriverslibrary.biblionix.com/catalog/
Sensory Kit 1


Sensory Kit 2


Sensory Kit 3