Teen Movie Time!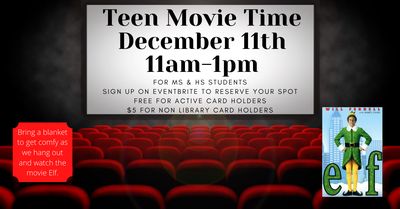 Teen Movie Time!
2021-12-11T11:00:00-05:00
2021-12-11T13:00:00-05:00
When

Dec 11, 2021

from 11:00 AM to 01:00 PM

(US/Eastern / UTC-500)

Where

Three Rivers Public Library - 2nd Floor

Contact Name Erin Zabonick
Contact Phone

269-273-8666

Add event to calendar

iCal
Teens
Sign up on Eventbrite to reserve your spot to come hang out and watch the movie "ELF." Bring blankets to get comfy! Free for patrons, $5 for non-library card holders.